2019 ENTERTAINMENT SCHEDULE
| | |
| --- | --- |
| Friday, June 14 | |
| 1:30 – 3:30 | Avenue Inn Band |
| 4:00 – 6:00 | Soul Jam |
| 6:30 – 8:30 | Twist of Fate |
| 9:00 – 11:00 | Fanzzango |
| | |
| Saturday June 15 | |
| noon – 1:00 | Evan Rotella |
| 1:30 – 3:30 | Jessica Wilson Band |
| 4:00 – 6:00 | Serious Trouble |
| 6:30 – 8:30 | Slider |
| 9:00 – 11:00 | Vinyl Flux |
| | |
| Sunday June 16 | |
| noon – 2:00 | Riley Michaels, ProAction Cops & Kids |
| 2:30 – 4:30 | Patsy and the Muscle |
| 4:30 – 5:00 | Ribber Awards Presentation |
| 5:00 – 7:00 | Killin' Time |
*The above schedule is subject to change.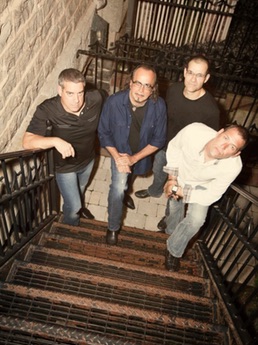 Soul Jam is a premier Niagara based band comprised of 4 seasoned musicians that have performed together for 25 years. With a repertoire consisting of Classic R  & B, Classic Rock and Motown, this dynamic group has gained a well-rounded reputation within the local music scene. From festivals to summer events and corporate functions,  Soul Jam continues to please and satisfy music lovers of all ages
VINYL FLUX is Niagara's Premiere Classic Rock band and multiple winner of the Niagara Music Awards. Performing throughout Southern Ontario, band members bring 40+ years of live performance experience and professionalism to each and every show.
Canadian singer/songwriter Jessica Wilson is a promising and ambitious young artist from Welland, Ontario. Having acquired a passion for performing at a young age, this multi-instrumentalist and triple threat performer can be found playing shows across Ontario. Jessica offers a fresh and up-beat sound.
For over ten years, Slider have been delivering their brand of "Retro Cool Party Rock" to enthusiastic crowds all across Niagara and beyond! The band have performed at a wide variety of venues and events since their 2006 inception, and no stage is too big or too small for this dynamic group of musicians! From intimate clubs, to corporate events and festivals, Slider deliver top flight entertainment!
Back in 2010 Evan Rotella entered his first talent show at age 6, playing Bruce Springsteen's "Born In The USA" to a raucous elementary school crowd. Since that day he has been on stage with the likes of Bruce Springsteen and Steve Earle, and opened shows for Willie Nile, Joe Grushecky, Marthy Stuart and more. Thanks to Niagara's Cory Cruise, Evan played his very first gig back in 2013 and has been busy ever since playing shows from the Light of Day Niagara Parkinson's Benefit shows to Porchfest Niagara, and more.
Avenue Inn has carved a unique space in the Canadian music scene since their formation in 2012, playing countless of shows around southern Ontario and sharing the stage with acclaimed artists such as The Sheepdogs, Burton Cummings, Coleman Hell and Young Empires. Influenced by the amplified and impassioned presence of bands such as the Arctic Monkeys, Kings of Leon, and the Arkells, the Niagara Falls natives have been carefully crafting their own approach to alternative rock with their brand new album "Tonight".
Twist of Fate is a Southern Ontario band. We put our own "Twist" of songs from today's Pop Top 40, Rock and New Country. Our goal is to play a great mix of danceable music to keep the party going all night long.   
Whether it's a Pub, Private function, Wedding or Festival, we will cater our setlist to meet your needs.
We are FanZZango, three veteran musicians in Niagara, dedicated to performing the raucous music of one of rock music greatest bands — ZZ Top. We've got the look, the energy, the chops — even the fur-covered guitars. FanZZango is Niagara's premier ZZ Top cover band — playing the biggest hits and some of the lesser known tunes of this remarkable Texas trio.
Singer, songwriter and guitar phenom, Riley Michaels, combines soulful vocals, heartfelt compositions and spectacular music to create a musical experience everyone will enjoy.  At just 18, Riley Michaels is already the recipient of the 2018 Niagara Music Awards "Blues Artist of the Year" award and has released two albums, "Mysterious" and "Toxic Love".  Work is currently underway on his third and biggest recording yet.
Serious Trouble, a Stevie Ray Vaughan Experience, is a group of 4 experienced musical professionals, who have come together with the goal of bringing you, the audience, the very best in tne music and sound of Stevie Ray Vaughan!
You will find yourself drawn in from start to finish, as Serious Trouble takes you on a trip through the Stevie Ray Vaughan Experience, so come out and see the band at a festival or event near you!
The Killin' Time Band. One of Canada's hardest working bands. KTB Combine Rock, Reggae, Funk, Country & Blues with amazing lead and harmony vocals to create their memorable show. The Killin' Time Band has had over a decade of real live road experience and over 3000 shows at venues & festivals across Canada and further South. The Killin' Time Band are dynamic performers that can please any crowd.
Patsy and The Muscle is a Niagara based acoustic dou. They share influences from The Allman Brothers to The Band, Pearl Jam to The Pogues, Led Zeppelin to Leadbelly. They perform an acoustic electric set comprised of vocal harmonies, guitars, mandolin, harmonica, and kajon. They can be seen in bars and restaurants as well as private and public events all throughout the Niagara Region.