2022 ENTERTAINMENT SCHEDULE
2022 ENTERTAINMENT SCHEDULE – changes may apply
| | |
| --- | --- |
| Friday, June 17 | |
| 4:00 – 6:00 | Avenue Inn |
| 6:30 – 8:30 | Feverish Lemons |
| 9:00 – 11:00 | Shin-diG |
| | |
| Saturday, June 18 | |
| noon – 1:00 | Isabella Milano |
| 1:30 – 3:30 | Jessica Wilson |
| 4:00 – 6:00 | Soul Jam |
| 6:30 – 8:30 | J.I.N. |
| 9:00 – 11:00 | Vinyl Flux |
| | |
| Sunday, June 19 | |
| noon – 2:00 | Evan Rotella |
| 2:30 – 4:30 | Lisette & Tyler |
| 4:30 – 5:00 | Ribber Awards Presentation |
| 5:00 – 7:00 | Slider |
*The above schedule is subject to change.
Soul Jam
Soul Jam is a premier Niagara based band comprised of 4 seasoned musicians that have performed together for 25 years. With a repertoire consisting of Classic R & B, Classic Rock and Motown, this dynamic group has gained a well-rounded reputation within the local music scene. From festivals to summer events and corporate functions, Soul Jam continues to please and satisfy music lovers of all ages
Vinyl Flux
VINYL FLUX is Niagara's Premiere Classic Rock band and multiple winner of the Niagara Music Awards. Performing throughout Southern Ontario, band members bring 40+ years of live performance experience and professionalism to each and every show.
Jessica Wilson
Canadian singer/songwriter Jessica Wilson is a promising and ambitious young artist from Welland, Ontario. Having acquired a passion for performing at a young age, this multi-instrumentalist and triple threat performer can be found playing shows across Ontario. Jessica offers a fresh and up-beat sound.
Slider
For over ten years, Slider have been delivering their brand of "Retro Cool Party Rock" to enthusiastic crowds all across Niagara and beyond! The band have performed at a wide variety of venues and events since their 2006 inception, and no stage is too big or too small for this dynamic group of musicians! From intimate clubs, to corporate events and festivals, Slider deliver top flight entertainment!
Evan Rotella
Back in 2010 Evan Rotella entered his first talent show at age 6, playing Bruce Springsteen's "Born In The USA" to a raucous elementary school crowd. Since that day he has been on stage with the likes of Bruce Springsteen and Steve Earle, and opened shows for Willie Nile, Joe Grushecky, Marthy Stuart and more. Thanks to Niagara's Cory Cruise, Evan played his very first gig back in 2013 and has been busy ever since playing shows from the Light of Day Niagara Parkinson's Benefit shows to Porchfest Niagara, and more.
Avenue Inn
Avenue Inn has carved a unique space in the Canadian music scene since their formation in 2012, playing countless of shows around southern Ontario and sharing the stage with acclaimed artists such as The Sheepdogs, Burton Cummings, Coleman Hell and Young Empires. Influenced by the amplified and impassioned presence of bands such as the Arctic Monkeys, Kings of Leon, and the Arkells, the Niagara Falls natives have been carefully crafting their own approach to alternative rock with their brand new album "Tonight".
Feverish Lemons Duo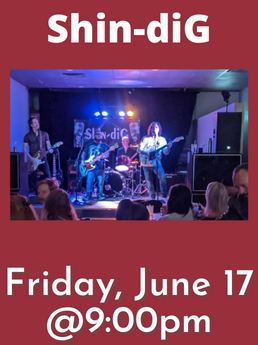 Shin-diG

Shin-diG was formed in 1995 covering all styles of music from classic rock to new country to pop/funk. We've been performing live in the southern Ontario club scenes/festivals.
Vinny – guitar/vocals
Alex – drums/backing vocals
Randy – bass
We play danceable music and keep the party moving.
JIN
JIN – led by singer/guitarist Nicole Cerminara, and anchored by brother Joe Cerminara on drums, and Myles Rogers on bass. Forged in the timeless crucible of three-set gigs, their sound finds a way to cut through the noise of pinball machines and carnival barkers; influenced by rock luminaries like Jimmy Page and 'Band of Gypsys'-era Jimi Hendrix, to be certain, while deeply grounded in the backbeat of funk and soul. Capturing the attention of over-stimulated travelers can be a thankless pursuit, or simply a means of sharpening one's sword.
.
Isabella Milano
Lisette & Tyler
Lisette & Tyle
Lisette & Tyler are a captivating couple who share love, a passion for music, and a drive to keep the musician career alive.
The full-time music duo entertains across Southern Ontario performing at venues, events, weddings, private parties & stage shows.
From experienced cruise ship entertainers to full-time gigging musicians, L&T have been sharing their growing repertoire of cover songs and originals alike since they first started dating in 2012.
L&T combine their unique styles and personal interests to create a modern acoustic folk-pop sound complete with both smooth, soulful vocals & acoustic depth and edge. Ty pulls classic rock influences from bands like Led Zeppelin and Pink Floyd along with both classical & jazz training from Berklee. He often gets comments on how his intricate acoustic guitar playing is unique as it mirrors electric guitar stylistic choices. Lisette has old country roots, borrows vocal riffing styles from pop music, and also has jazz & classical training. They both began their music journey together while studying jazz music in university and the rest is history.
From rock to country, pop to jazz, L&T combine it all with a rare acoustic vibe that has left a lasting impression with audiences both on land and at sea.